Entwickler Liste Destructive Creations
Destructive Creations
Destructive Creations is a very experienced development team, containing game industry's highly-skilled veterans. Many years of common creative work effects in a great workflow and staff stability. Our first production under Destructive Creations sign is Hatred, which was released on June 1st, 2015. Our main goal is to create original and non-compromising games. An example of Hatred shows that we can handle the controversy and unusual solutions perfectly.
Spiele vom Entwickler Destructive Creations

Gesamt: 1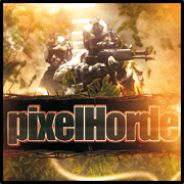 Join the pixelHorde Discord Server!
Check out the pixelHorde community on Discord - hang out with 32 other members and enjoy free voice and text chat.
wir sind und zocken bei pixelHorde
Neue Entwickler
Neue Entwickler in der ePrison Datenbank
Top Entwickler
Top Entwickler in der ePrison Datenbank