Entwickler Liste Octane Games
Octane Games
Octane Games ist ein Action-Game-Entwickler mit Sitz in Finnland. Das Team entwickelt qualitative hochwertige Titel für die weltweite Vermarktung und nutzt dabei eigene Originallizenzen. Die Gründung des Unternehmens erfolgte im Frühjahr 2011. Octane Games ist eine 100-prozentige Tochter von Nitro Games Ltd.
Spiele vom Entwickler Octane Games

Gesamt: 0
Dieser Beitrag hat noch keine Einträge.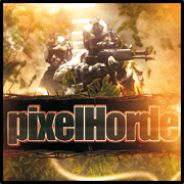 Join the pixelHorde Discord Server!
Check out the pixelHorde community on Discord - hang out with 32 other members and enjoy free voice and text chat.
wir sind und zocken bei pixelHorde
Neue Entwickler
Neue Entwickler in der ePrison Datenbank
Top Entwickler
Top Entwickler in der ePrison Datenbank