Entwickler Liste Phoenix Labs
Phoenix Labs
Phoenix Labs is an independent game studio located in the heart of picturesque Vancouver, B.C. We were co-founded in 2014 by, Jesse Houston, Sean Bender, and Robin Mayne to create games for players to enjoy together. Our team is a carefully crafted ensemble of 40 close-knit developers who have enjoyed making games together throughout their careers.
Spiele vom Entwickler Phoenix Labs

Gesamt: 1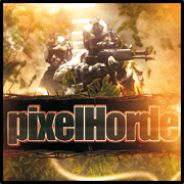 Join the pixelHorde Discord Server!
Check out the pixelHorde community on Discord - hang out with 32 other members and enjoy free voice and text chat.
wir sind und zocken bei pixelHorde
Neue Entwickler
Neue Entwickler in der ePrison Datenbank
Top Entwickler
Top Entwickler in der ePrison Datenbank