Entwickler Liste Psyonix
Psyonix
Psyonix has been working with industry leading game publishers and developers for over ten years. As experts in Unreal Engine technology and multiplayer gaming, Psyonix has been a driving force behind some of the biggest titles in the marketplace. The studio's first game was the highly successful Onslaught for Unreal Tournament 2004, a game mode Psyonix concepted and designed. Afterwards Psyonix took its experience in multiplayer and rapid gameplay development to work on such titles as Gears of War, Unreal Tournament 3, XCOM: Enemy Unknown, Homefront, Bulletstorm, and Mass Effect 3. Psyonix continues to specialize in game development for next-gen consoles, PC, and mobile platforms.
Spiele vom Entwickler Psyonix

Gesamt: 2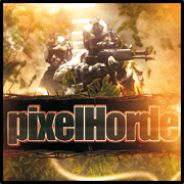 Join the pixelHorde Discord Server!
Check out the pixelHorde community on Discord - hang out with 32 other members and enjoy free voice and text chat.
wir sind und zocken bei pixelHorde
Neue Entwickler
Neue Entwickler in der ePrison Datenbank
Top Entwickler
Top Entwickler in der ePrison Datenbank