Entwickler Liste Stardock Entertainment
Stardock Entertainment
We're a software development company that was founded in 1991 and incorporated in 1993 as "Stardock Systems". We initially developed for the OS/2 platform, but were forced to switch to Windows® due to the collapse of the OS/2 software market between 1997 and 1998. We're best known for computer programs that allow a user to modify or extend a graphical user interface as well as personal computer games, particularly strategy games such as Galactic Civilizations®, Sins of a Solar Empire®, Fallen Enchantress and more!
Spiele vom Entwickler Stardock Entertainment

Gesamt: 1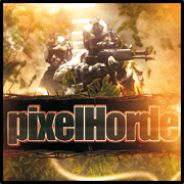 Join the pixelHorde Discord Server!
Check out the pixelHorde community on Discord - hang out with 32 other members and enjoy free voice and text chat.
wir sind und zocken bei pixelHorde
Neue Entwickler
Neue Entwickler in der ePrison Datenbank
Top Entwickler
Top Entwickler in der ePrison Datenbank