Publisher Liste Shanda Games International Europe
Shanda Games International Europe
Shanda Games Limited (NASDAQ: GAME) is a leading online game developer, operator and publisher in China. As a listed company dedicated to online game business, Shanda Games pursues the goal of "innovation and opening" with over 2000 R&D, providing a diversified product portfolio, offering users over 70 game products including massively multiplayer online role-playing games (MMORPGs), advanced casual games, webpage games, mobile games and etc.Shanda Games has received many heavy-weight awards such as Golden Plume and Golden Phoenix Awards for years with most awards in online game industry in China.
Spiele vom Publisher Shanda Games International Europe

Gesamt: 1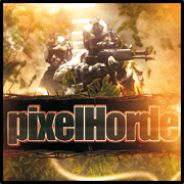 Join the pixelHorde Discord Server!
Check out the pixelHorde community on Discord - hang out with 32 other members and enjoy free voice and text chat.
wir sind und zocken bei pixelHorde
Neue Publisher
Neue Publisher in der ePrison Datenbank
Top Publisher
Top Publisher in der ePrison Datenbank