One day you are living your happy toaster life, then corruption takes over and transforms the entire household into Hell! Your only option - equip a variety of weapons and defeat hordes of enemies while escaping from home.
Defeat wave after wave and equip weapons and items along the way. Collect experience and choose upgrades carefully to create powerful builds.


Features
Quick and casual runs

Achievement based progression unlocking new characters, weapons and items

Auto-aiming weapons

Multiple playable characters with unique traits and playstyles

Diverse bosses with unique mechanics

Corruption system altering gameplay

Variety of weapons and items

Supports mouse, keyboard and gamepads
Early Access Content
1 stage featuring 7 layouts

6 playable characters with unique traits and playstyles

2 unique bosses

23 unique monsters

51 items

17 different and upgradeable weapons

11 character traits that upgrade characters and weapons

80 achievements

This is the content the early access will start with and will be expanded on until the final release.

Please note that your progression in the game is tied directly to your achievements so even without Steam Cloud Save, you will be able to play on any PC/Steamdeck and keep your progress synced automatically.
Choices matter
After every wave you can select between three cards that can be new weapons, passive items or upgrades to your existing arsenal. Most cards directly influence future selections as the available card pool expands or shrinks into various directions.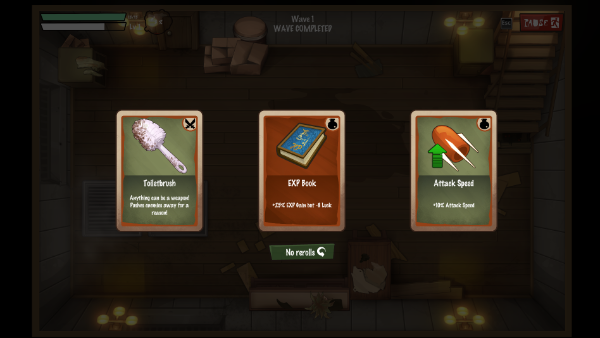 E.g.selecting a Weapon Upgrade card will introduce additional duplicate weapons to the current run, enabling a level of control to your future selections. Don't be shy to ReRoll offers every now and then as you have plenty of opportunities to refill your ReRolls over time.