Entwickler Liste Paintbucket Games
Paintbucket Games We are Paintbucket Games, a Berlin based Indie Game Studio founded by two ex-AAA developers who met at YAGER, making Spec Ops The Line. We also worked on Dead Island 2, Dreadnought, Albion Online, Drakensang, Yager (the game), Desperados 2 and others. Joerg Friedrich does Design and Code and Sebastian Schulz does Art and Design. Each of us has been making games for more than 13 years and we worked 10 of those together.
Spiele vom Entwickler Paintbucket Games

Gesamt: 2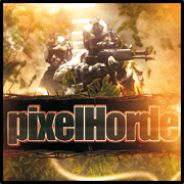 Join the pixelHorde Discord Server!
Check out the pixelHorde community on Discord - hang out with 32 other members and enjoy free voice and text chat.
wir sind und zocken bei pixelHorde
Neue Entwickler
Neue Entwickler in der ePrison Datenbank
Top Entwickler
Top Entwickler in der ePrison Datenbank