Publisher Liste Hooded Horse
Hooded Horse
Hooded Horse is a Dallas, Texas based publisher of strategy, simulation, and role-playing games, including Old World, developed by Mohawk Games; Terra Invicta, developed by Pavonis Interactive; Falling Frontier, developed by Stutter Fox Studios; Alliance of the Sacred Suns, developed by KatHawk Studios; and The Way of Wrath, developed by Animmal.
Spiele vom Publisher Hooded Horse

Gesamt: 2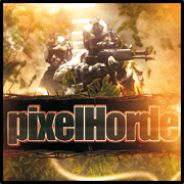 Join the pixelHorde Discord Server!
Check out the pixelHorde community on Discord - hang out with 32 other members and enjoy free voice and text chat.
wir sind und zocken bei pixelHorde
Neue Publisher
Neue Publisher in der ePrison Datenbank
Top Publisher
Top Publisher in der ePrison Datenbank