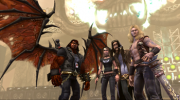 Brütal Legend erzählt die Geschichte von Eddie Riggs, gespielt von Jack Black, der per Zeitreise in eine mythische Vergangenheit voll Rock´n Roll transportiert wird. Hier regierten einst mächtige Metal-Titanen die Welt und überall hallten die gigantischsten Riffs aller Zeiten durch die Lüfte. Als ein unterdrücktes Volk Eddie bittet, ihm mit moderner Kriegsführung aus der Zukunft im Kampf zur Seite zu stehen, greift er auf alles zurück, was er in seinem bisher einzigen Job gelernt hat: Als Roadie einer Metal-Band baut er die höllischste Armee aller Zeiten auf - und so beginnt in dieser Welt das goldene Zeitalter des Metal!

Als Eddie eines Tages bei einem Bühnenunfall bewusstlos wird, tropft sein Blut hinunter auf seine Gürtelschnalle, ein Geschenk seines Vaters, und stillt einen Jahrtausende alten Durst. Eddie erwacht in einer Welt, die ihm fremd, aber dennoch merkwürdig vertraut ist - einer Welt, in der sämtliche Metal-Plattencover und Metal-Lyrics zum Leben erwacht sind; einer Welt, in der der niederträchtige Herrscher Doviculus und seine Dämonenarmee, die Tainted Coil, die letzten Reste der Menschheit versklavt haben.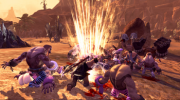 Der Widerstand der Menschen, angeführt von Lars Halford, seiner Schwester Lita und der geheimnisvollen Ophelia, ist ungebrochen. Doch was ihnen fehlt, ist jemand, der sie einig und organisiert in die Schlacht führt. Was ihnen fehlt, ist ein Roadie. Unter Eddies Führung erwacht der Metal mit all seiner barbarischen Power, seinen Hot Rods, seinen Marshall-Amps, seinem Leder und seinem Chrom in dieser alten Welt zum Leben.

Features:

Actionreiche Kämpfe! – Zentrales Element in Brütal Legend ist klassische Action. Von Nahkampftreffern mit Eddies blutgetränkter Streitaxt bis hin zu Distanz-Schlachten mit der dämonentötenden Gitarre Clementine und Fahrzeugattacken mit Eddies Hot Rod, dem "Teufel", bietet Brütal Legend intensive, packende und unterhaltsame Kampfaction, die jedem wahren Rocker ein ehrfürchtiges Teufelshorn entlockt.
Eine einzigartige Welt – Brütal Legend nimmt die berühmtesten Albumcover und Lyrics der Rockgeschichte und verwandelt sie in eine unvergleichliche, übergangslose offene Welt voller Details wie einem Berg aus Gitarrenverstärkern oder aus dem Boden sprießenden Big Block-V8-Motoren.
Rocklegenden und Hollywoodstars – Neben Jack Black, der Eddie Riggs seine Stimme leiht, umfasst die gigantische Besetzung von Brütal Legend auch einige der größten Legenden des Metals, darunter Rob Halford von Judas Priest, Lemmy von Motörhead, Lita Ford und viele andere.
Kill'em All – Online geht der Metal-Wahnsinn weiter! Der Brütal Legend-Multiplayer-Modus verbindet Kämpfe voller Action mit einer strategischen Einheits-steuerungs-Mechanik, mit der der Spieler seine Armee in den Battle of the Bands führen kann. In diesem Battle ist Überleben der ultimative Lohn.
Verbessere deine Waffen – Hol dir überall in der Welt "Feuerzeug-Tribute" und schau in der Motorforge vorbei, in der du deine Axt, deine Gitarre und deinen Hot Rod upgraden und ihre vernichtende Wirkung auf dem Schlachtfeld noch verstärken kannst.
Tim Schafer – Tim Schafer, Erfinder von Spieleklassikern wie Full Throttle, Grim Fandango und PsychoNauts, wird für die Tiefe und den Humor seiner Charaktere gerühmt und gilt seit vielen Jahren als einer der Top-Entwickler der Spielebranche.
Ein Soundtrack voller Klassiker – Der Brütal Legend-Soundtrack besteht komplett aus lizenzierter Musik und enthält einige der größten Metal- und Rocksongs aller Zeiten.