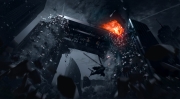 Sie haben keine Chance, also nutzen Sie sie.

Call of Duty: Ghosts ist der außergewöhnlichste Fortschritt für eine der größten Marken in der Unterhaltungsindustrie. Das neueste Kapitel in der Call of Duty-Reihe wartet mit frischen Ideen auf und versetzt die Spieler auf die Seite einer gelähmten Nation, die nicht mehr um Recht und Freiheit kämpft, sondern ums nackte Überleben.

Angetrieben wird dieses von Grund auf neu konzipierte Call of Duty-Erlebnis von einer ambitionierten Engine der nächsten Generation, die mit atemberaubenden Details und Leistung aufwartet. Und das alles bei konstanten 60 Bildern pro Sekunde über alle Hardwareplattformen.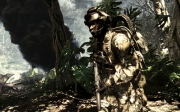 Einzelspieler-Kampagne
Zehn Jahre nach einem verheerenden und einschneidenden Ereignis sind die amerikanischen Landesgrenzen und die globalen Machtverhältnisse nicht wiederzuerkennen. Der letzte Rest der nationalen Spezialstreitkräfte, eine mysteriöse Gruppierung, die nur unter dem Namen "Ghosts" bekannt ist, führt den Kampf gegen eine neue, technologisch überlegene Weltmacht an.
Ein neues Call of Duty-Universum: Zum ersten Mal übernehmen die Spieler die Rolle eines Underdogs in Call of Duty: Ghosts. Zahlenmäßig und in Feuerkraft weit unterlegen, müssen sie eine gefallene Nation in einer äußerst intensiven Story retten. Sie lernen dabei gänzlich neue Charaktere und Orte in einer veränderten Welt kennen, wie sie in noch keinem Call of Duty zuvor zu sehen waren.
Mehrspieler
In Call of Duty: Ghosts erstellen Sie nicht einfach nur eine Klasse - Sie erstellen einen Soldaten. Im brandneuen Soldaten-Editor von Ghosts können Sie das Aussehen beeinflussen, indem Sie Kopf, Körpertyp und Ausrüstung anpassen sowie erstmals in einem Call of Duty®-Spiel auch das Geschlecht. Mit mehr als 20.000 möglichen Charakter-Kombinationen ist dies der flexibelste und komplexeste Editor in der Geschichte der Serie.
Neue dynamische Karten sind die Weiterentwicklung des Mehrspieler-Modus'. Sie bieten interaktive Elemente und vom Spieler ausgelöste Ereignisse, die die Spielumgebung laufend verändern. Eine vollständige Veränderung der Landschaft zwingt Spierler dazu, Taktik und Strategie spontan zu ändern.
Call of Duty: Ghosts ermöglicht jetzt auch taktische Spielerbewegungen. Mit dem neuen Positionsaktionen-System lehnen Sie sich nun an Hindernissen vorbei, ohne weitere Tastenkombinationen kennen zu müssen oder die Deckung vollständig zu verlassen. Das neue Kletter-System ermöglicht flüssige Bewegungen über Objekte ohne allzu großen Tempoverlust. Rutschen Sie beim Sprinten auf den Knien ganz natürlich in die geduckte oder liegende Haltung.
Call of Duty: Ghosts bietet mehr als 20 NEUE Abschussserien - wie den Juggernaut-Maniac, den Heli-Aufklärer, die Vulture und den ODIN-Angriff. Die Spieler können sogar den Hund Riley aus der Einzelspieler-Kampagne zum Selbstschutz und Angriff von Feinden einsetzen. Außerdem gibt es mehr als 30 NEUE Waffen, inklusive einer ganz neuen Waffenklasse: DMRs.
Trupps
Erstellen Sie Ihr Team und führen Sie bis zu 6 von ihm im neuen Trupps-Modus in die Schlacht. Dieser Modus kombiniert die besten Elemente des Mehrspieler-Modus' und gestattet es Ihnen, entweder allein oder Koop mit den eigenen Soldaten, die Sie im Mehrspieler-Modus erstellt haben und mit denen Sie im Rang aufgestiegen sind, in die Schlacht zu schicken.
Die Ausrüstung, die Sie für die einzelnen Truppmitglieder wählen, hat direkten Einfluss auf das KI-Verhalten Ihrer Truppkameraden. Wenn Sie Ihrem Soldaten ein Scharfschützengewehr geben, verhält er sich wie ein Scharfschütze, geben Sie ihm eine MP, wird er vorstürmen und feuern.