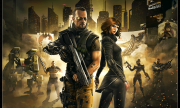 Deus Ex: The Fall ist der Beginn einer neuen Reise für die preisgekrönte Spieleserie Deus Ex. Es spielt 2027 – eine goldene Zeit für Wissenschaft, Technologie und menschliche Augmentierungen, aber auch eine Zeit einer großen sozialen Kluft und globaler Verschwörung. Mächtige Firmen haben Kontrolle über Regierungen erlangt und gebieten über die Versorgung der für augmentierte Menschen lebensnotwendigen Medikamente.

Inmitten dieses Chaos sucht Ben Saxon, ein ehemaliger britischer SAS Söldner, der physische Augmentierungen hat vornehmen lassen, verzweifelt nach der Wahrheit hinter der Medikamentenverschwörung. Von seinem Arbeitgeber, dem Privatmilitär Tyrants, hintergangen, ist nicht nur sein eigenes Leben in Gefahr, sondern das aller augmentierten Menschen ...

Jede tat hat Konsequenzen
Viele Stunden Gameplay mit mehreren Arten zu spielen
Kämpfe in einer globalen Verschwörung um dein Leben
Die Suche nach Wahrheit erstreckt sich von Moskau bis in die Slums Panamas
Eine Geschichte zum Eintauchen
Intuitive Touchscreens-Steuerung
Schlagkräftige Action und hitzige Kämpfe
Atemberaubende Grafik, Sound und Musik
Gänzlich erforschbare umwerfende Umgebung
Einzigartiges visuelles Design
Soziale und Hacking-Fertigkeiten
Die nagelneue Geschichte spielt im Deus Ex-Universum
Spiele, wie du willst: ganz auf Action oder Schleichen ausgelegt

Deus Ex: The Fall ist ein Action-RPG, das Wert auf die Geschichte legt und der erste Titel der Deus Ex-Serie für mobile Geräte und Tablets. Das Spiel beinhaltet nie zuvor gesehene Charaktere aus dem Roman Deus Ex: The Icarus Effect und setzt die Geschichte dort fort, wo das Buch endet.