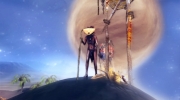 From Dust ist das neueste Spielkonzept von Eric Chahi, dem Schöpfer des Kult-Klassikers "Another World / Out of this World". Tauchen Sie in eine Welt ein, die so exotisch und schön ist, wie sie auch gefährlich ist! Sie steuern die Geschicke eines primitiven Stammes vor dem Hintergrund einer Welt, die sich ständig weiterentwickelt – ein Universum, in dem die mächtige Natur zurückgewinnt, was ihr Eigen ist; und Ihre Beherrschung der Elemente die einzige Chance für Ihr Volk zu überleben ist.

Besondere Eigenschaften:

­Bahnbrechende Technologie –Die Schönheit einer primitiven Welt, voller Leben, in der die Natur ihre volle Stärke zeigt.
Eine Welt zum Formen; eine Natur, die kontrolliert werden muss – Die Gefahren einer sich immer wieder dynamisch durch den Befehl des Spielers verändernden Welt.
Anführer eines Stammes – Spieler erhalten Kontrolle über das Schicksal eines Stammes, der ums Überleben kämpft und versucht das verlorene Wissen und die Kräfte seiner Ahnen wieder zu erlangen.
Legendärer Designer – Das Originalkonzept stammt von Creative Director Eric Chahi, dem visionären Entwickler von Out of this World /Another World
Features
Bahnbrechende Technologie - Spielen Sie im Sandkasten eines der am weitesten fortgeschrittenen Echtzeit-Simulationen der Natur, wo alles, was Sie sehen und mit dem Sie interagieren, sich dynamisch entwickelt. Dies bietet Ihnen eine ganz neue Erfahrung.
Einzigartige Kunstrichtung - Entdecken Sie eine große Vielfalt an Lebensräumen: Tropische Inseln, vulkanische Landschaften, Wüsten und vieles mehr...
Reichhaltige Geschichte - Erforschen Sie 13 atemberaubende Territorien mit überragendem Spielerlebnis. Meistern Sie die Naturerscheinungen im Spiel auf einem mysteriösen Archipel und helfen Sie einem primitiven Stamm, die verlorenen Mächte ihrer Vorfahren wiederzuerlangen.
Trotzen Sie der mächtigen Natur - Schützen Sie Ihren Stamm vor den verheerendsten Angriffen der Natur. Überwinden Sie Tsunamis, Waldbrände, Erdbeben, Vulkane, sintflutartige Regenfälle...
Meistern Sie göttliche Kräfte - Kontrollieren Sie die Kräfte der Natur, um die Welt nach Ihrem Belieben zu formen. Halten Sie Lava zurück, stoppen Sie tosendes Wasser, leeren Sie Seen, bauen Sie Wälder an und erheben Sie Berge!
Nehmen Sie die Herausforderung an - Spielen Sie gegen die Uhr auf 30 zusätzlichen Karten im Challenge-Modus. Jedes Szenario ist eine Puzzle-ähnliche Herausforderung gegen die Zeit...
Online-Bestenlisten - Vergleichen Sie Ihre Punkte im Challenge-Modus mit der Community auf den weltweiten Bestenlisten.