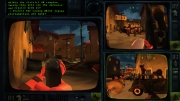 Signal Ops is a multiple-perspective first-person tactical espionage game! (whew, mouthful!)

Hit me with the basics!
In Signal Ops, you guide agents from the relative safety of a control room. Complete daring missions to plant evidence, steal secrets, assassinate targets, and perform sabotage. Take advantage of multiple simultaneous first person views to stealthily evade enemies or get the drop on them. Supports Single-Player and 2 or 3-player co-op (Online, LAN, Local, in any combination).

What is the gameplay like?
Click a feature to jump to the Discussion where you can read more detailed information and ask questions!

Select your squad from 6 agents with unique abilities and equipment.
Position radios to maintain communications with your agents in the field.
Use the shadows to remain undetected, but always be prepared for a fight.
A dash of old-school flavor. Navigate open levels. A map! No regenerating health.
If an agent dies you can call in a reinforcement, but he'll be vulnerable until he can scavenge some weapons.