Storm the Gates ist ein neues Multiplayer rundenbasierten taktischen Kampf-Spiel in einer mittelalterlichen Fantasy-Welt. Dieses befindet sich zur Zeit noch in der Finanzierungsphase, welche über Kickstarter durchgeführt wird.

Auffällige Ähnlichkeiten zu anderen Games wie World of Warcraft sind in den ersten Artworkts deutlich zu erkennen.

Kickstarter: www.kickstarter.com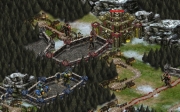 Storm the Gates is a unique blend between a turn-based tactical combat game and a Collectible Card Game. Players pit their fantasy armies against each other in single-player battles or large scale team matches. Players can work together to conquer territory, increase their resource advantage, and ultimately destroy the opposing Stronghold. As players progress, they earn booster packs of Unit Cards, called Army Packs. They can then customize their armies using the different units and experiment with new combinations and strategies!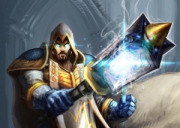 As Rebel Entertainment was nearing the launch date of Storm the Gates, our parent company decided to discontinue funding our studio. However, Storm the Gates is currently still in development and is seeking a publisher. Storm the Gates will also appear on Kickstarter in the very near future.

A unique blend of a digital Collectible Card Game and a tactical war game with large-scale team battles!

Deep grid-based combat system with unit synergies and territory control!
Collectible digital units allow you to customize your army to your play-style!
Ever changing battle maps! Maps are built by the players, so every battle is different and offers new tactical challenges!
Large-scale team multiplayer battles never before seen in other tactics games! Form the ultimate team of players and compete against enemy teams for domination of the battlefield!
Form a powerful guild of pro players and climb the leader-boards to become the most fearsome guild in the realm.
A connected experience where you can play from home or on the go on your tablet or mobile device.
Synchronous turn-based and Asynchronous battle modes available!
Multiple game modes including 1v1, 3v3, and 5v5. Practice against AI Bots or play a competitive Ranked game against expert opponents!