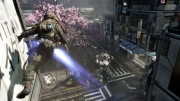 Machen Sie sich bereit für Titanfall. Einer der Erfinder von 'Call of Duty' und weitere wichtige Entwickler der Call of Duty-Serie präsentieren mit Titanfall ein brandneues Universum, in dem sich David und Goliath, Natur und Technik sowie Mensch und Maschine gegenüberstehen. Die Visionäre von Respawn Entertainment haben sich von ihrer umfangreichen Erfahrung im Bereich First-Person-Action inspirieren lassen und läuten mit Titanfall die nächste, spannende Generation der Multiplayer-Action ein.

Features:

Die rasante Kriegsführung der Zukunft – Titanfall gibt Ihnen die Möglichkeit, die hochentwickelte Kriegsmaschinerie der Zukunft entweder als Elite-Kampfpilot oder als wendiger, schwer gepanzerter 7 Meter großer Titan zu erleben. Titanfall definiert dabei die Grundlagen des Kampfes und der Gefechtssituationen neu und erlaubt den Spielern, ihre Taktik spontan zu ändern, um je nach Situation anzugreifen oder sich zurückzuziehen.
Die Zukunft der Online-Multiplayer-Action – Titanfall steht für Multiplayer. Das Spiel vereint dabei temporeiche Online-Action mit heroischen Spielsequenzen, wie sie traditionell im Kampagnenmodus zu finden sind. Die nahtlose Verknüpfung dieser beiden Aspekte trägt entscheidend zu der einzigartigen Identität bei, die Titanfall auszeichnet.
Die Visionäre, die Gaming für eine ganze Generation neu geprägt haben, sind zurück. – Respawn Entertainment wurde 2010 von Vince Zampella und Jason West eröffnet, die zuvor Infinity Ward mitbegründet und als Mitschöpfer die erfolgreiche Videospielreihe 'Call of Duty' ins Leben gerufen hatten. Jetzt arbeiten sie daran, ihre Erfolgsgeschichte fortzusetzen, indem sie sich dem Gamedesign auf besondere Weise nähern und mit Titanfall ein rundum neues Universum erschaffen.