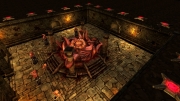 Keine Lust mehr, Dungeons zu überfallen? Dann baue deinen eigenen!

Steht es dir bis zum Hals, in endlos monotonen Aufgaben immer und immer wieder böse Typen zu zerbröseln, bloß um Gold und ein etwas besseres Paar Schuhe zu bekommen? Fragst du dich langsam, ob das Heldenleben wirklich deine Berufung ist? Wenn es dir so geht, dann sei willkommen bei War for the Overworld!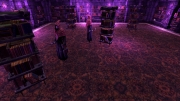 ESchachte den Boden aus und errichte deinen Dungeon tief unter der Oberwelt. Dieses moderne Dungeon-Management-Spiel lässt den originalen Charme des Genreklassikers ganz neu aufleben. Behüte deinen Dungeon, klapse deine Diener und errichte unterirdische Festungen, prall gefüllt mit all den tückischen Räumen, Fallen und der abscheulichen Dienerschaft ganz nach deinen Wünschen. Erlebe all das unter der Schirmherrschaft der Originalstimme des Bösen und der besten, die man sich dafür vorstellen kann: Richard Ridings!

Das Böse mag es gern vielfältig und im Rahmen der Adern des Bösen gibt es jede Menge Vielfalt! Du wählst aus mehr als 60 Räumen, Zaubern, Tränken, Ritualen, Verteidigungseinrichtungen und Bauwerken, während du allmählich Fortschritte im Spiel erzielst. Setze deine teuflischen Werkzeuge gegen die Edelmut triefenden Helden aus der Oberwelt ein und zeige ihnen, was Eindringlingen gebührt.

Du wählst aus insgesamt sechs Spielmodi aus und bestimmst, wie du deine Feinde auf ureigene Weise niederringst. Wähle unter den Modi "Kampagne", "Scharmützel", "Szenarios", "Multiplayer", "Überleben" und der "Mein Hobby-Dungeon"-Erweiterung (kostenlose Demo über 2 Levels im Basisspiel enthalten) und entdecke, wie viel Freude es tatsächlich macht, zur Abwechslung mal für das Böse zu streiten.

Erschaffe deine eigenen Karten und Kampagnen mit dem intuitiven und leistungsstarken Karteneditor einschließlich Skriptunterstützung und teile Sie anschließend über den Steam Workshop, um zu den Tausenden benutzerdefinierter Karten beizutragen, die bereits entwickelt worden sind. Steige noch tiefer ein und ändere die Spielregeln selbst nach deinen Wünschen: Dutzende "Mutatoren" machen das möglich. Noch niemals war es so kreativ, auf der Seite des Bösen zu stehen!

War for the Overworld wird von einem unabhängigen Team begeisterter Entwickler erschaffen, die samt und sonders mit Haut und Haaren dem Dungeon-Management-Genre verfallen sind. Seit der Erstveröffentlichung haben wir das Spiel beständig aktualisiert und mit unzähligen Patches, Neugewichtungen, Hochglanz-Überarbeitungen und einem Sack voller neuer Funktionen ergänzt. Unsere Community spielt eine wesentliche Rolle für unseren Erfolg und ohne Hilfe der Community hätten wir aus dem Spiel auch nicht das machen können, was es heute ist. Wir bedanken uns ganz herzlich bei allen.