Dragon's Dogma: Dark Arisen
Notiz
Dragon's Dogma: Dark Arisen ist die PC Version mit allen Addons aus der Playstation Version.

Marktplatz
Auslieferung:
Plattform: PC
Release: 26.04.2013

Marktplatz
Auslieferung:
Plattform: PC / Mac

Marktplatz
Dragon's Dogma: Dark Arisen
Auslieferung: Steam Key
Plattform: PC
Mit Dragon's Dogma: Dark Arisen erscheint die von Fans und Kritikern gleichermaßen gefeierte Dragon's Dogma-Serie erstmals auf dem PC!

Das Spiel enthält nicht nur das ursprüngliche Dragon's Dogma, sondern auch alle Inhalte der Erweiterung – wie die Finstergram-Insel, die brandneue Gegner und Quests bereithält, sowie zusätzliche High-Level-Waffen und –Rüstungen. Umwerfende, hochauflösende Grafik und voller Steam-Support sorgen für das beste Dragon's Dogma-Erlebnis aller Zeiten!

Das in einer gigantischen offenen Welt spielende Dragon's Dogma: Dark Arisen bietet eine einzigartige Spielerfahrung: An jeder Ecke warten spannende Abenteuer und faszinierende Entdeckungen auf den Spieler sowie seine drei Gefährten, die als "Vasallen" bekannt sind. Diese Kameraden kämpfen selbständig, demonstrieren Heldenmut und beeindruckendes Können. PC-Spieler können ihre individuell trainierten Vasallen online tauschen und dadurch Belohnungen, Tipps und Strategievorschläge zur effizienten Bekämpfung der Furcht erregenden Gegner zu erhalten. Vasallen können auch geliehen werden, wenn spezifische Eigenschaften benötigt werden, um spezielle Quests zu meistern.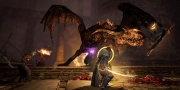 Mit Dragon's Dogma hat Capcom im Genre der Actionrollenspiele neue Akzente gesetzt. Dragon's Dogma: Dark Arisen setzt nun noch einen darauf und bietet das Hauptspiel mit zahlreichen Verbesserungen und einer umfangreichen Erweiterung – der verfluchten Insel Bitterblack. Basierend auf einem großen Open-World-Szenario, liefert Dragon's Dogma eine handfeste Action-Erfahrung und kombiniert packende, impulsive Kämpfe mit der Freiheit, eine üppige, lebende Welt zu erkunden. Für euren Hauptcharakter stehen drei Klassen zur Wahl. Dabei handelt es sich um die Fantasy-Archetypen Kämpfer, Waldläufer und Magier. Mit einer Gruppe aus drei weiteren Charakteren begeben sich Spieler in ein episches Abenteuer, um einen mysteriösen Drachen aufzuspüren und zu töten. Alle, die Dragon's Dogma bisher verpasst haben, können mit Dragon's Dogma: Dark Arisen die Sage um den Erweckten von Beginn an erleben, bevor sie sich den neuen Herausforderungen stellen.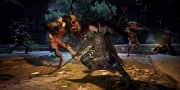 Nahe der Küste Gransys liegt die verfluchte Insel Bitterblack, auf der Spieler auf ein Reich tief im Untergrund stoßen – voll tödlicher Gefahren und verlockender Schätze. Mit neuen, hochleveligen Fähigkeiten und neuen Waffen und Rüstungsteilen wird der Spieler dabei mächtiger als je zuvor. Besitzer von Dragon's Dogma können ihren existierenden Spielcharakter und sämtliche Speicherdaten in das Spiel importieren und ihre Reise als Erweckter fortsetzen, um sich der Bedrohung der Abgründe Bitterblacks zu stellen. Dragon's Dogma Besitzer erhalten mit dem Kauf von Dragon's Dogma: Dark Arisen außerdem folgende Inhalte kostenfrei: 100.000 Rift-Kristalle, unlimitierte Reisesteine und das Gransys-Rüstungsset mit sechs neuen Kostümen. Das Spielerlebnis von Dragon's Dogma wird basierend auf dem Feedback der Spieler mit einigen Verbesserungen wie einem einfacheren Reisesystem und einer intuitiveren Menüführung noch zugänglicher. Diese Änderungen werden auch in den Spielstand von früheren Besitzern von Dragon's Dogma integriert.

Features:

Das originale Dragon's Dogma m it zahlreichen Verbesserungen
Ein gigantisches Reich im Untergrund mit über 25 neuen, Furcht erregenden Gegnern
Neue Fähigkeiten und über 100 neue Ausrüstungsgegenstände
Weitere Möglichkeiten, den eigenen Charakter zu erstellen und zu verändern
Japanische Sprachausgabe als Auswahlmöglichkeit
CPU: Intel Core i5 660 CPU oder vergleichbar
GFX: Radeon HD 5870 oder vergleichbar
RAM: 4 GB RAM
Software: Windows Vista oder neuer
HD: 22 GB verfügbarer Speicherplatz
SFX: DirectX-kompatibel
DX: Version 9.0c
INET: Breitband-Internetverbindung
MISC: 1) Supports Keyboard+Mouse and XInput/DirectInput devices including Xbox 360, Xbox One, DualShock and Steam Controller.
2) Some high end integrated graphics chips and modern gaming laptops with a discrete GPU may work but have not been tested, nor are they officially supported by Capcom.
LANG: English
CPU: Intel Core i7-4770K oder vergleichbar
GFX: NVIDIA GeForce GTX 760 oder vergleichbar
RAM: 8 GB RAM
Software: Windows Vista oder neuer
HD: 22 GB verfügbarer Speicherplatz
SFX: DirectX-kompatibel
DX: Version 9.0c
INET: Breitband-Internetverbindung
Dieser Beitrag hat noch keine Einträge.
AppId:

2405
Erstellt:
26.10.18 04:00
Bearbeitet:

09.10.18 22:24 (nilius)
Betrachtet:

2760
GameApp v3.0 by nilius