Entwickler Liste Bethesda Softworks
Bethesda Softworks
Die Spieleschmiede Bethesda Softworks wurde 1986 gegründet. Sie wurde insbesondere durch ihre Rollenspielserie Elder Scrolls bekannt. Heute ist sie ein Teil der ZeniMax Media-Gruppe. In Europa werden ihre Spiele vom Spielepublisher Ubisoft vertrieben. Das neueste Spiel aus dem Elder Scrolls Universium - Oblivion - wird jedoch von Take 2 Interactive vertrieben. Für die Playstation-3-Version von The Elder Scrolls IV: Oblivion und für das Add-on Knights of the Nine ist wieder Ubisoft verantwortlich.
Spiele vom Entwickler Bethesda Softworks

Gesamt: 19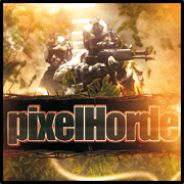 Join the pixelHorde Discord Server!
Check out the pixelHorde community on Discord - hang out with 32 other members and enjoy free voice and text chat.
wir sind und zocken bei pixelHorde
Neue Entwickler
Neue Entwickler in der ePrison Datenbank
Top Entwickler
Top Entwickler in der ePrison Datenbank